Polo bears make a splash
Featured in The Westerner, Thursday 1 May 2014 - Story by Lee Oliver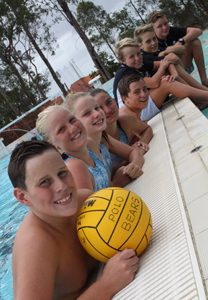 Local water polo players are anxiously waiting to find out if they will be swapping their blue swim suits for maroon ones.
Eleven players from the North Brisbane Water Polo Club have been named in extended Queensland under-14 squads.
Charlize Andrews, Hana Barretto, Sophie Milliken, Mae Rogers and Jess Smith are in the Queensland girls' squad, with Josh Andrews, Luke Chisholm, Connor Clark, Finlay Ford, Pat Lyndon and Nathan Walker on the shortlist for the boys' team.
They all have their fingers crossed in the hope that they will make the final cut for the state teams to compete at the national championships in Adelaide in July.
Three of the Polo Bears players – Sophie Milliken, Jess Smith and Josh Andrews – represented their state last year.


Nathan Walker, Charlize Andrews, Sophie Milliken, Jess Smith, Josh Andrews, Finlay Ford, Connor Clark and Pat Lyndon from North Brisbane Water Polo Club hope to play for Queensland.
Club spokesperson Jane Andrews said having 11 junior players in the mix for state representation was "the best effort in several years" for the club.
Mrs Andrews said the club, which has previously produced Olympians such as Billy Miller and current Australian women's captain Bronwen Knox, had benefited from an influx of young players.
A 20 per cent growth in player membership last year saw the club add the Genesis College Aquatic Centre at Bray Park as its second home pool, along with the Albany Creek Leisure Centre.
"We're finding we're getting a lot more kids as they're finishing their swimming career and they're getting a bit bored with swimming, and they're looking for something more of a team (sport)," Mrs Andrews said.
The club's juniors players have blossomed under the guidance of quality coaches such as Uros Kralj, who has coached high-level water polo in his native Slovenia.
"We've also got some other really good coaches and they're all volunteers who put in a lot of time," Mrs Andrews said.